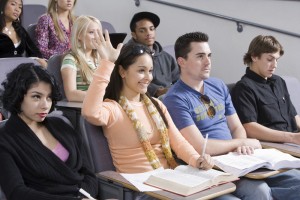 The IELTS Preparation course is for students who plan to take the IELTS exam within the next 15-­20 weeks. The course familiarises students with with the requirements of the exam and its four sections: Reading, Listening, Writing and Speaking. Students will practice each of these skills extensively, as well as focusing on improving their grammar, vocabulary, spelling, punctuation and pronunciation.
Students will learn strategies to help them fully demonstrate their language ability on the exam and regularly take full mock exams (Reading, Listening, Writing and Speaking) to practice these strategies. Every type of IELTS writing task, including both Academic and General Training modules, is covered systematically during each level of the course.
Duration: 5 to 30 weeks
Timetable: Morning and Evening Timetables
Intakes: Every Monday
Entry Level: Intermediate level and above
Contact Hours: 20 Core Hours + 3 Optional Hours
CRICOS Course Code: 069592A
A sample course outline for the IELTS Preparation course is listed below.